1 in 4 Americans Have More Credit Card Debt Than Emergency Savings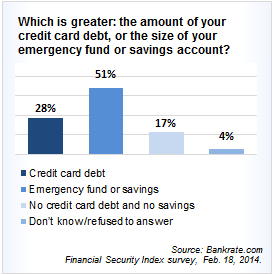 A little more than half of Americans have more emergency savings than credit card debt, according to a new Bankrate.com report.
This survey finding represents the lowest percentage (51 percent) since Bankrate began tracking the issue of emergency savings vs. debt in 2011.
More than a quarter of Americans, or 28 percent, have more credit card debt than emergency savings, the highest percentage in the past four years. And 17 percent have neither emergency savings nor credit card debt.
Americans between ages 30 and 64 – typically the prime earning years – are the most likely to have more credit card debt than emergency savings.
"This is a reflection of the stagnant incomes, long-term unemployment and high household expenses that are hampering the financial progress of many Americans," said Greg McBride, CFA, Bankrate.com's chief financial analyst.
Bankrate's Financial Security Index fell to 99.3 in February, its lowest level since November 2013.
Readings below 100 indicate lower financial security than the previous year.
Two of the five components (job security and net worth) are higher than one year ago; two others (debt and overall financial situation) slipped into neutral territory this month.
"The stock market's rocky start to the year and a run of less-than-stellar economic readings have put a dent in consumers' feelings of financial security," McBride said.
The survey was conducted by Princeton Survey Research Associates International (PSRAI).